Television presenter Thembisa Nxumalo, has made a shocking announcement by revealing that she gave birth a few months ago.
The announcement was made on Instagram, where she revealed her post-partum body. The actress kept her pregnancy under wraps and her post left many fans shooketh to the core whilst congratulating her.
Nxumalo has left our jaws hanging from shock after she took to Instagram and revealed in a post that she recently gave birth a few months ago. The Unmarried actress opened up about her comeback journey from her bodily changes cause by her pregnancy which include weight gain and acne.
Thembisa's post-partum body looks way better than you would imagine and she said she is getting into the rhythm of working out regularly, yaass yummy mommy go get 'em.
"A few months postpartum. Trying to get back into the rhythm of working out regularly❤️. Face still has scarring from acne, and the worst reaction to bad make-up. 38 and living," she wrote.
Here it is;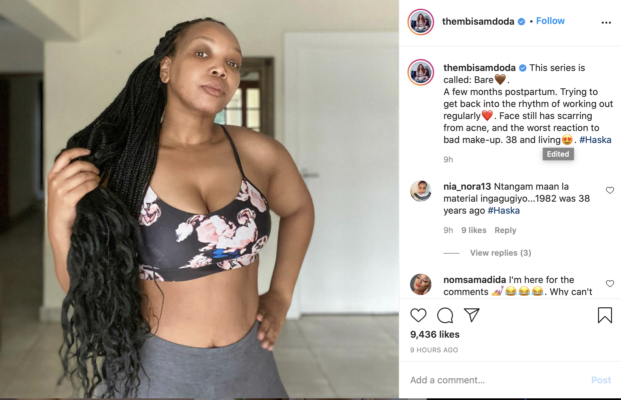 Thembisa did not reveal further details surrounding her newborn baby. The Unmarried actress recently revealed her man and spoke about how they met.
"I think we met at the exact right time, you know when everything was just coming together. That is very scary because I was like: 'I'm focusing on my career and my kids' and then it just happened. You know when it just hits you and you are like: 'oh cr*p'. But he's an incredible and amazing human being and he boyfriends really well," she said
Also See: