Singer and actress Simphiwe Simz Ngema has announced her break up with her baby daddy Tino Chinyani.
After suffering heartbreak at the death of her husband Dumi Masilela in 2017, actress Simz Ngema announced she's found love and happiness in 2020, and this has also ended.
Their breakup comes just a few days after they celebrated Tino's birthday.
She posted,
"An end to a beautiful love story.
This has been one of my greatest experiences, a beautiful love story of two people fighting all the odds to be together. I have learnt to love again, to feel again, to live again and to smile again. I will forever be grateful for Everything you have taught me. I pray that God gives us the strength and wisdom to raise our beautiful son. @tiyani_chinyani we will always be great parents to you and we will always be there for you .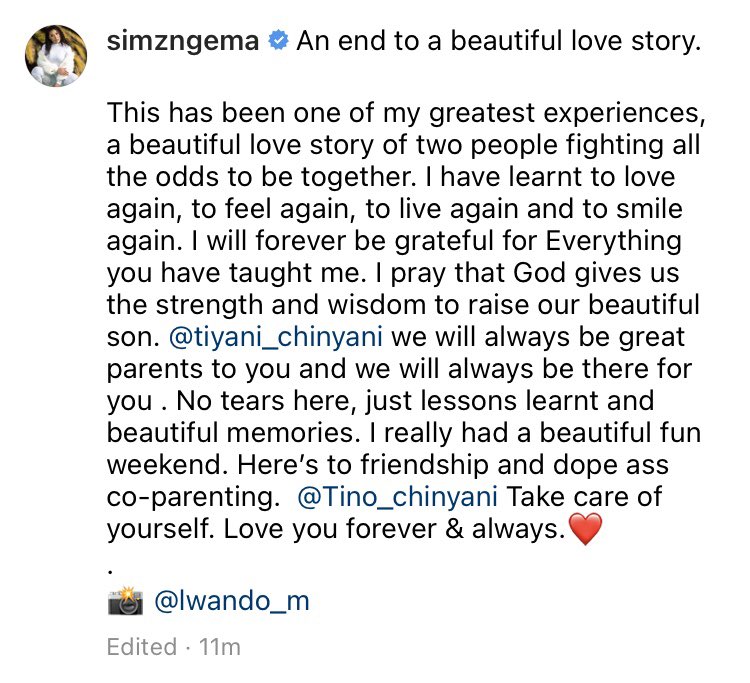 No tears here, just lessons learnt and beautiful memories. I really had a beautiful fun weekend. Here's to friendship and dope ass co-parenting. @Tino_chinyani Take care of yourself. Love you forever & always.❤️"
View this post on Instagram
They are blessed with a son. Here is how she announced her pregnancy in 2020; On the 23rd of June 2020 we gave birth to a beautiful baby boy, Tiyani Kemorena Michael Chinyani."
View this post on Instagram
Do you remember the story of how they met and how Tino got into Simz's panty. Here it is;
Also Watch & Read: