Celebrities
Statement: I should have handled my daughter saying she grew up poor matter differently, I apologise – Lady Du' father, DJ Choc
Lady Du' father, DJ Choc has publicly apologized to his daughter after calling her out. DJ Choc shared a video of himself swearing at his daughter and it went viral.
It started after Lady Du allegedly lied about her upbringing which resulted in her father getting angry with her. However, the star's father admitted to being wrong and said he regretted venting out about his family matters in public. Dj Choc released a statement saying: "I would like to sincerely apologize for the video of me discussing my daughter, Lady Du.
He said the video in which he was just venting out, landed in the wrong hands. "Following the claims made by my daughter, I recorded the video and shared it with a family member to vent out my frustrations regarding a story supported by Lady Du about her childhood", he said.
Duduzile "Lady Du" Ngwenya says she's left emotional and confused after her father publicly hurled insults at her.
In a viral video shared on social media, Lady Du's father, popularly known as DJ Choc, slammed the amapiano star for apparently making claims she grew up in poverty, saying he had afforded her a great life.
It is alleged that the Amapiano musician made a statement about working hard to give her daughter the life that she didn't have as a child.
Here's what Lady Du again posted;
Lady Du told TshisaLIVE she did not want to be a part of what had been reported about her because her post was taken out of context and her father had caught wind of a misconstrued story.
"I experienced depression in 2021. I lost everything that I had. I was out of home and didn't want to bother him with my stress and stuff. It was a motivational post. It had nothing to do with me saying I grew up poor.
"Somebody misread my post and went and told my dad that I said I didn't have this and that [growing up] . I've never in my life said I was poor, and that I can vouch on God. My dad doesn't have social media so I think somebody saw my post and went to ask him when that happened."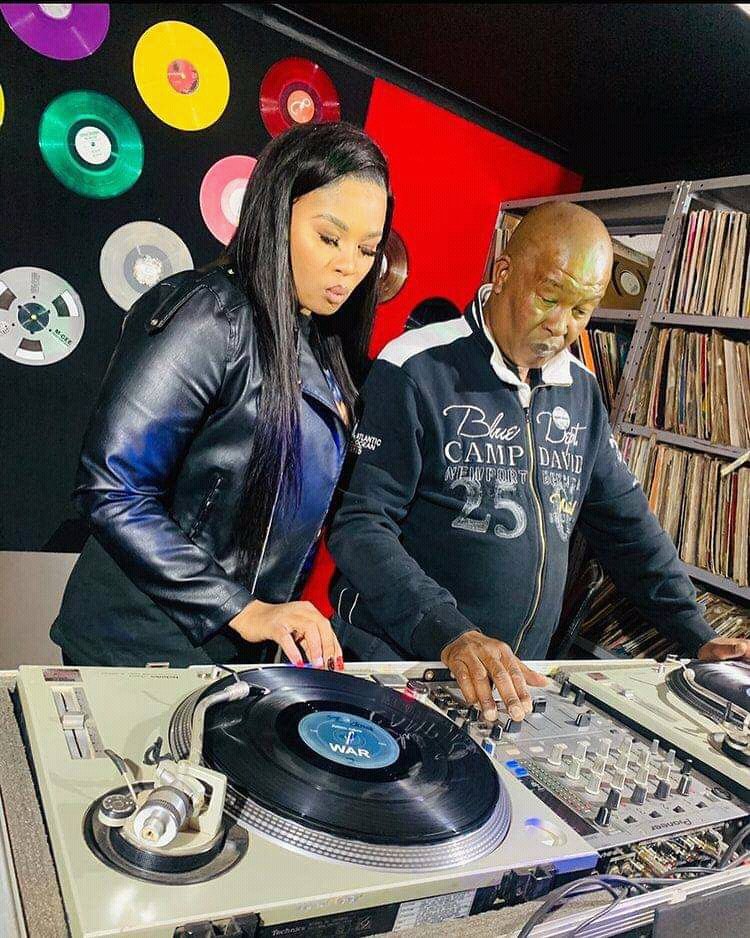 The Umsebenzi Wethu hitmaker claimed she had not watched the video before, adding that after seeing her name trend, she had made an attempt to reach out to her father. She said she wanted to resolve the matter with the rest of her family elders.
"I have not watched the video. He sent it to my brother, making threats, and I kept quiet and said I'm not going to listen to it.
"I tried to speak to him. I sent him a message. He's hurting and I want to get to the point and find out what is the problem. If a person is hurt and they do it to that extent, I need to do it, not by myself but with elders, so we get to the bottom of why and what got him to that state."
Social media has been buzzing following the video that went viral and did rounds on social media. This is a video of Lady Du's father who did the unexpected and left the country in shock. 
In the clip, the veteran DJ shared that he's disappointed by her daughter because he worked hard so that Lady Du could have a good life.
"She's a dog of a child. I gave birth to a dog. She's busy buying man and spending money with them. She did not grow up poor because of me."
"I do not know what Lady Du means when she says she grew up poor when I worked so hard to give her a comfortable life. She then went and h*ed around and ate money with all these men and she continues to spend money on these men. What is she doing now? She did not grow up poor, she had everything she needed.
Lady Du's father DJ Choc speaks out after Lady Du said she grew up poor. pic.twitter.com/U8LeV5UFyh

— Musa Khawula (@MusaKhawula) May 7, 2022