Controversial YouTuber Mihlali Ndamase and her businessman boyfriend Leeroy Sidambe's relationship is growing stronger as they now decided to have an Ink together. Yes, they've gone to have matching Tattoos.
Leeroy Sidambe and Mihlali Ndamase are serving couple goals despite naysayers who said their affair would end in tears because Mihlali allegedly broke Leeroy and Mary Jane Sidambe's marriage.
Mihlali Ndamase recently had her haters gasping for air when she posted a picture of the matching tattoos they decided to get with her boo.
Taking to her Instagram stories, the award-winning media personality posted a short video of the tattoo artist getting ready to start work and wrote:
"Woke up and decided to get more ink. "when God says yes"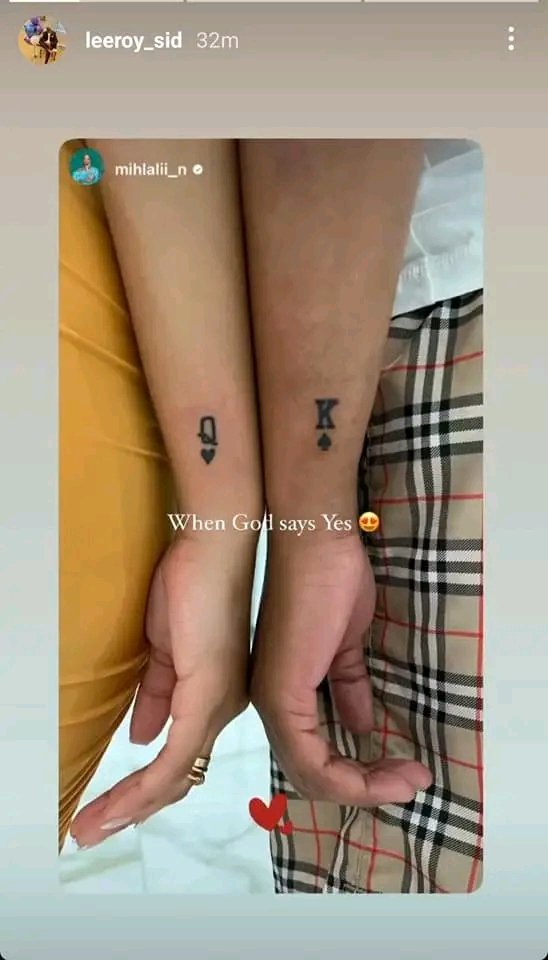 Mihali Ndamase who is loving her married boyfriend, Leeroy Sidambe, loudly has done it again. The YouTuber took to her Insta stories to show the businessman some love as Leeroy Sidambe is celebrating his 39th birthday.
Ever since word of their romance broke, the backlash has been intense.
It seems like getting matching tattoos is the latest trend among SA celebrities, as rappers and one of the most loved couples, AKA and Nadia Nakai, recently got the streets buzzing when they debuted their matching lion and lioness tattoos.
Also See: