Influencer and businesswoman, Mihlali Ndamase and Leeroy Sidambe have 'confirmed' their relationship through a picture in which they are dishing smiles, looking cozy together.
Mihlali Ndamase is not even hiding is anymore, she's finally flaunting her current man.  Many have accused Mihlali Ndamase of snatching married man, Leeroy Sidambe from his wife, MaryJane. Well, Leeroy Sidambe has finally released a statement about this whole situation.
Leeroy Sidambe has issued a statement saying he is separated to Maryjane Sidambe. Leeroy Sidambe further says during the period of his separation he met Mihlali Ndamase and they fell in love with each other.
He said;
Before everything else, I am a father, whose sole aim is to protect and provide for my two beautiful children. I have consistently shielded them from this period of change in our lives. They are the only reason I sought to have a quiet separation from my estranged wife, and the respect that I have for both our families.
With profound sadness, I find myself having to pen a public statement in defense of my personal life and those I love dearly. In March of this year, after many months of trying to make things work, I took steps towards a separation from my marriage and marital home – whilst still maintaining access to my children. According to my understanding and that conveyed by my lawyers, this meant that my estranged wife and I were free to live our lives as we saw fit. Free to move on in whatever manner we chose, as single individuals…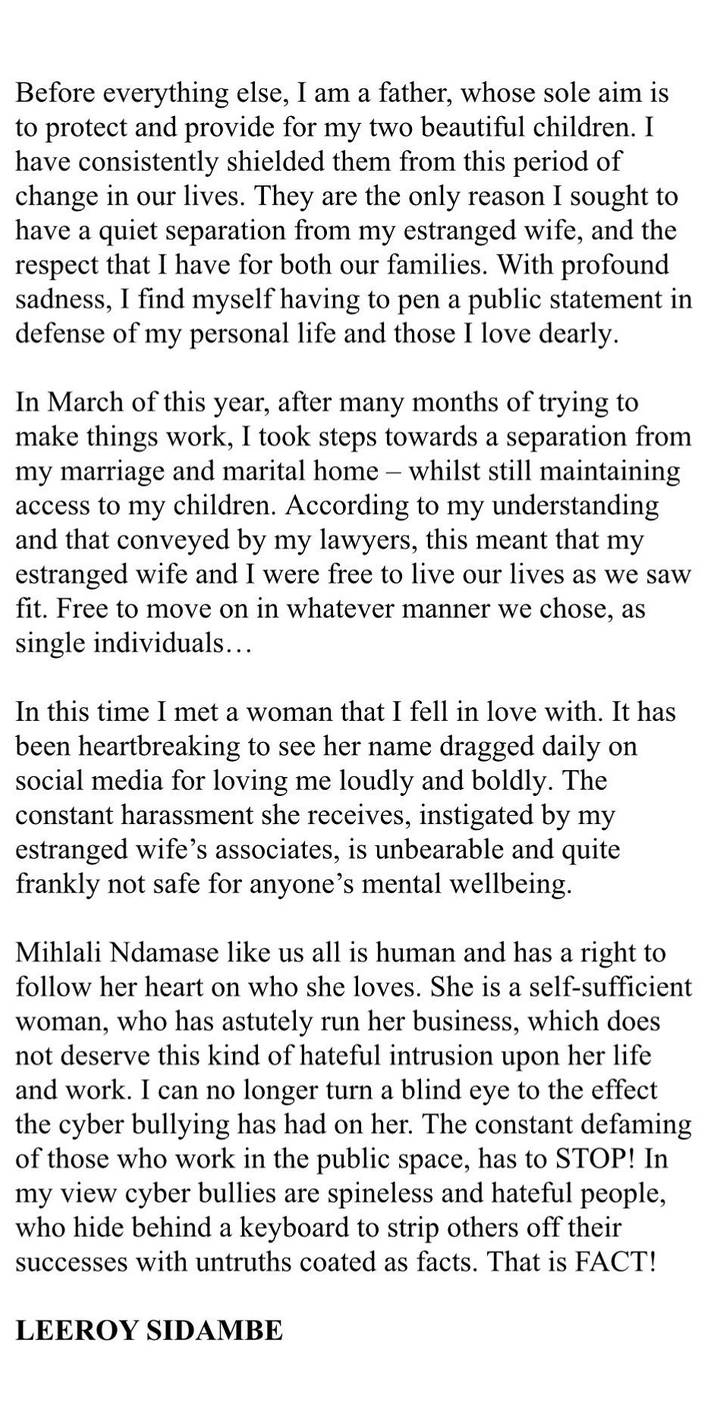 He continued,
In this time I met a woman that I fell in love with. It has been heartbreaking to see her name dragged daily on social media for loving me loudly and boldly. The constant harassment she receives, instigated by my estranged wife's associates, is unbearable and quite frankly not safe for anyone's mental wellbeing.
Mihlali Ndamase like us all is human and has a right to follow her heart on who she loves. She is a self-sufficient woman, who has astutely run her business, which does not deserve this kind of hateful intrusion upon her life and work. I can no longer turn a blind eye to the effect the cyber bullying has had on her.
The constant defaming of those who work in the public space, has to STOP! In my view cyber bullies are spineless and hateful people, who hide behind a keyboard to strip others off their successes with untruths coated as facts. That is FACT!