While hitmaker Master KG is out here collecting accolades, his ex-girlfriend, singer Makhadzi, is letting it be known that her "virginity-breaker" is totally deserving of those awards and more.
Jerusamela hitmaker, Master KG officially made 2020 his year after a record-breaking eight award wins in just three weeks. He bagged his latest win this past Sunday but not many were too pleased.
Master KG's latest wins are highly applauded by his legions of fans from around the world. The Jerusalema hitmaker recently won Icon of The Year At The SA Style Awards. Whilst his win puzzled many who do not see him as a very fashion forward person, his ex girlfriend sees him befitting of that title.
On congratulating Master KG for his win, His ex-lover Makhadzi commented on his wins by saying, "Congratulations mukwasha."
Many of her followers flooded her comments section hoping to find out the direct translation for Mukwasha. Google translator says the word means 'son-in-law.' Many of her followers agreed that indeed it means son-in-law.'
However, some delved deeper into the meaning of the word. A user suggests the ancient meaning of the word saying it actually means "a person who broke your virginity."
"Y'all are crazy the true meaning of 'mukwasha' in Venda is the person who broke the virginity. It was son-in-law in the olden days because they were still virgins before marriage," @Dibzo2 wrote.
Mzansi's successful power couple, whose careers have recently hit new heights, have called it quits in August, this year. Master KG decided to break the sad news to his fans on Facebook.
Even though the Jerusalema superstar doesn't seem to regret his decision, he has revealed that the split was mutual because he and Makhadzi wanted to focus more on their individual careers.
Here is what Master KG posted on Facebook;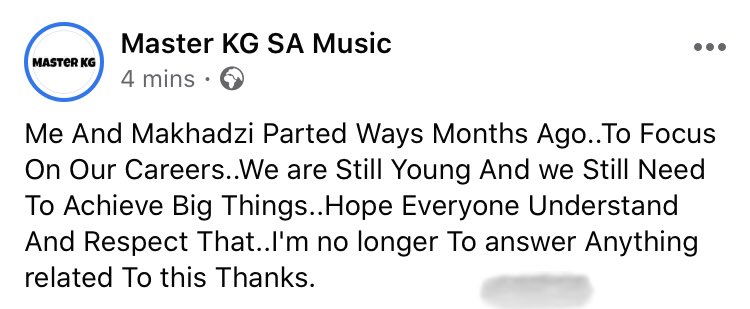 Makhadzi  also posted;
Are they now back together again?? Let's see
Also See: