South African musician Dr. Malinga and high-flying singer Makhadzi are in a war of words over her One Woman Show held in 2022.
Makhadzi, real name Ndivhudzannyi Ralivhona, held her One Woman Show at the sold-out Makhuva Stadium in Thohoyandou, Limpopo, on 1 October 2022. The Ghanama hitmaker was supported by artists like Master KG, Sho Madjozi, Lady Du, Zanda Zakuza, Mr. Brown, and King Monanda.
Three months after the show, Dr. Malinga startled fans when he posted a cryptic message targeting Makhadzi. He said:
"GUYS, YOU NEVER ASKED ME WHAT HAPPENED WHEN I WAS BOOKED AT Makhadzi 1 WOMAN SHOW. PLEASE ASK I'LL TELL YOU🙏"
"Makhadzi, stop using people for your own benefit. God is watching you, dammit
🤞👎 Thanks bye.
"Let me count I never ate anything at your show….no drinks I'll go live soon to tell people that you promised you won't exploit me. Promoters treat me better than you did.
"You only wanted to promote your show using my name mxm. It's not that I hate you, NO, just your attitude 👎"
Using her other page, Makhadzi replied Dr Malinga that;
"My brother, I respect you. Besides being a musician, you are a father and a husband to your wife. I don't know if this is for your PR stunt or what because you have my number.
If you are talking about my show, you are the only first person to receive it because I was touched by your story. I made sure I took my own money from my own pocket and paid you because my business partners were refusing to add more people to my lineup.
So if you got paid what else are you crying for? If there's more, I think you still have my number."
Here's the Receipt of Payment;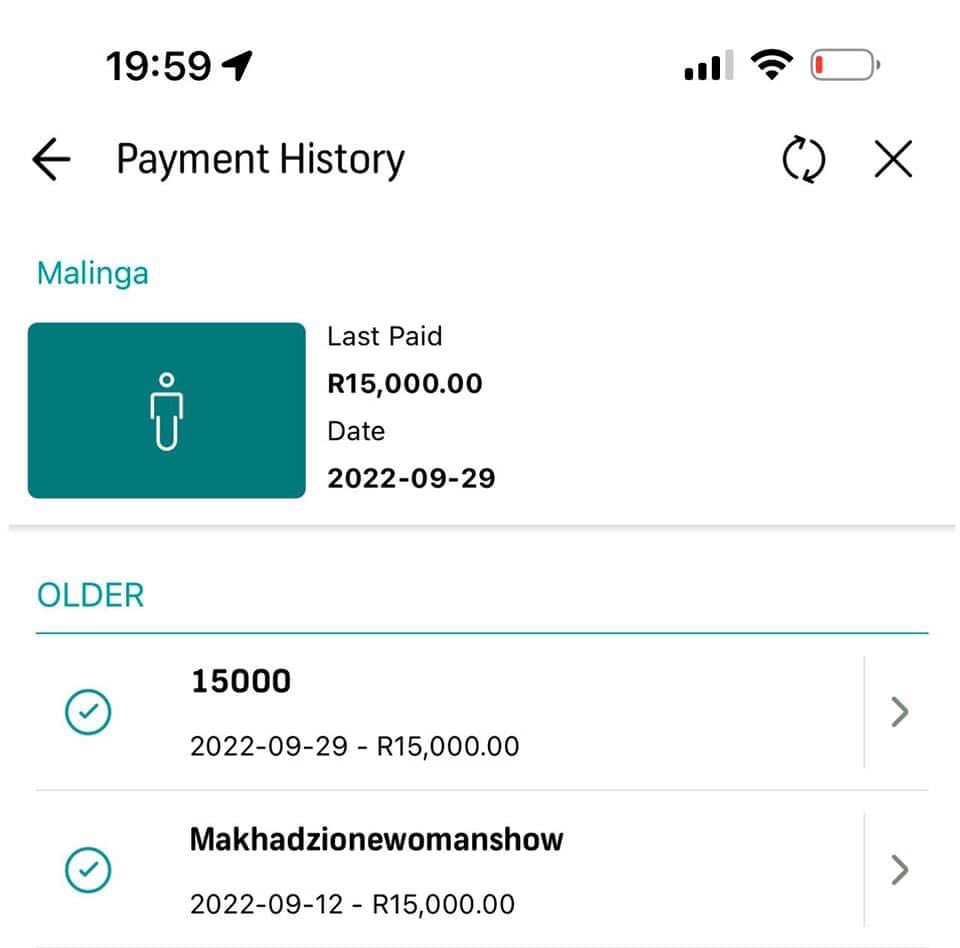 This clearly means Dr. Malinga is telling lies, and just chasing clout!