Londie London receives a new BMW white car from her new lover, Mabonga.
In less than 3 weeks, the star showed off a new house and a new car; she announced them in the same manner by showing them off on her Instagram stories.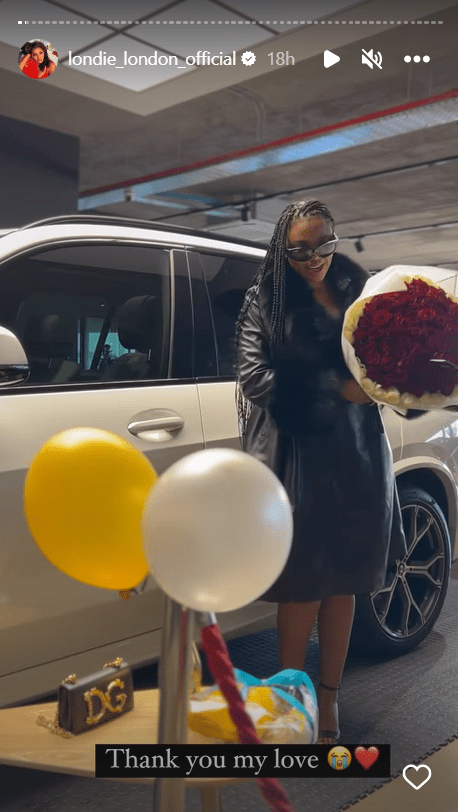 Londie revealed on L-Tido's podcast that after their breakup, Umi's dad came to an event she was attending to take back the luxury vehicle without prior warning her.
The mother of two showed off the new ride on her Instagram stories. "Thank you, my love, she captioned a video of her collecting the German ride.
An excited Londie appreciated her lover by writing, "Thank you my love," on the video.
Yaaas Londie London 😍😍😍😍 pic.twitter.com/UsoUVLyPXC

— IG:siyanda_mwelase (@siyah_94) May 25, 2023
Meanwhile, she has been warned against her new lover, as it's reported that he scams people for a living.
Chatting to L Tido about her relationship Londie revealed that she and Umi's dad had an "on and off" relationship. "We had a hectic fight with Instagram huns involved. We didn't break up because of a girl," she said.
She notes that they broke up because the "plans they had in the beginning changed" and she felt alone in the marriage.
"When you start off being a consistent man who is supportive and you stop doing those things? What is going o happen? It got to a point where a relationship was very dark for me. It was very dark and he was still living his bachelor life. Like I decided to get into the relationship alone."