Popular South African producer and man of the moment, Master KG is in the eye of a storm after he was exposed to have ordered his lover, Queen Lolly, to abort the couple's pregnancy.
The "Jerusalema" star is expecting his first child with fellow musician Queen Lolly, real name Nomfundo Shezi. However, far from being pleased, Master KG, real name Kgaogelo Moagi, is reported to have ordered Queen Lolly to abort the pregnancy.
It seems as though the real reason behind Master KG and Makhadzi's break up has emerged, with the revelation of a third person – or possibly fourth. Sunday World reported that a musician by the name of Queen Lolly, real name is Nomfundo Shezi is pregnant with Master KG's child but this is not the first pregnancy.
Queen Lolly told Sunday World that Master KG had asked her to abort the pregnancy. This is not the first pregnancy as the international music sensation had previously forced her to abort their first baby as well.
View this post on Instagram
She also said that this was the second time that she had fallen pregnant with Master KG's baby,
"He wants me to terminate the pregnancy, but he doesn't like paying hospital bills. Last year, I fell pregnant and I went through the whole thing by myself. I had a miscarriage and he wasn't there, although he knew [what had happened].

"I asked him how I can have an abortion if he doesn't pay hospital bills. The first time, he said: 'Please make a plan.' KG is a womaniser and preys on powerless women because he knows he has power,"
Queen claims that the first time they met three years ago, was when she asked the award-winning artist to work with her in a song. Staying in Durban at the time, she had to travel to Pretoria a lot using her own money for a beat that was not done. Instead, Queen claims he never finished the beat because he wanted to sleep with her.
"Instead of a beat or a studio session, Master KG asked for sex sessions with me. At first I refused to sleep with him but gave in when I moved to Pretoria in January this year," she told the publication.
The two then dated for a brief moment hence the mutual agreement to have sex without protection. When she fell pregnant Queen Lolly informed Master KG of her pregnancy and instead of supporting her, he called her crazy. "His response was that I am crazy.
He never wanted to entertain me on that pregnancy topic and because of pressure from him, I decided to abort my baby during the lockdown period," said Queen Lolly.
Here are more Details;
Here is the Screenshot of their Conversation;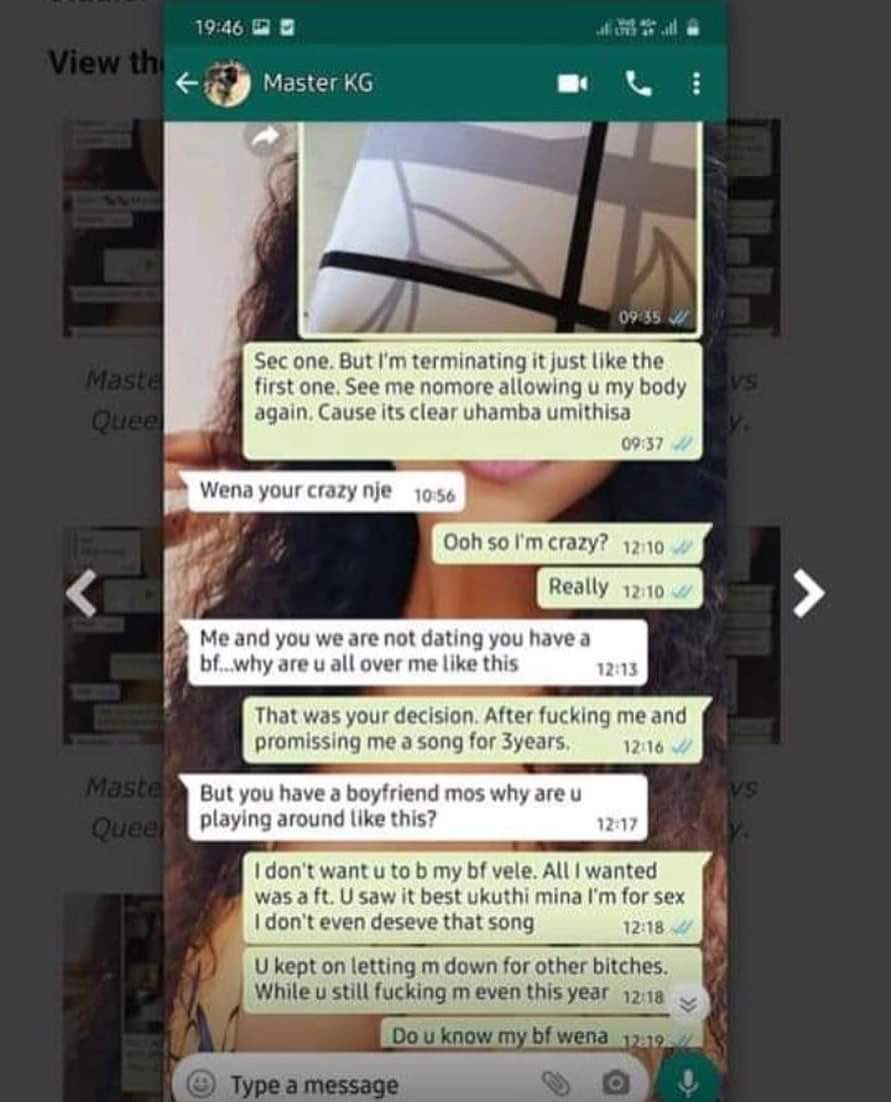 Queen Lolly insisted that she has no plans to be in a long term relationship with the Limpopo-born musician who had turned on her after she announced that she was pregnant.
"He said he didn't give a f**k and I could go ahead and tell the press about it because he was loved all over the world, but who was I? He said he wasn't ready for a child. I told him I needed money to terminate and he asked how much. I told him to do the booking since he was the one who didn't want the baby, and that he shouldn't book me into a cheap backdoor clinic."
The musician is currently pregnant for the second time again this year but this time she refuses to abort the baby. She further told the publication that Master KG only uses her for sex but now that she is expecting his child, she will raise the baby alone as a single parent and does not want anything to do with him.   "I am not going to have an abortion again because of a man who does not want responsibilities. I don't want anything to do with him anymore," she told the publication.
Master KG denies being the father of the child because he believes that Queen has a boyfriend and that he could be the father. He admitted to the publication that they were once an item but denied being informed of any pregnancy.
Source: Zacelebs
Also See: