Celebrities
Kelly Khumalo breaks her silence after her Son was expelled from School for bringing Marijuana he stole from Kelly Khumalo's boyfriend Mthokozisi Yende
 Jub Jub and his 12-year-old son Christian who has since proved to be taking on his father's feet, unconfirmed reports claim.
Christian found himself on the wrong side of the school after teachers found him in possession of a bag of marijuana. Christian has since been expelled from the unnamed school where he was doing grade 6
If there's one thing Kelly Khumalo does right effortlessly, it's being a mother! The mother to two adorable children, gushed over her son Christian for his 12th birthday today.
Kelly penned a sweet message to Christian on her social media saying she will always have his back no matter what. Kelly is one proud mother who expressed how.
View this post on Instagram
Kelly posted,
"You will fall, make mistakes along the way but that's part of growing up, as long as you learn and continuously fight to be a better person, that's good enough for me. I got you son and I love you to the moon and back. "
Kelly Khumalo's son Christian was  expelled from his school for allegedly carrying weed/Marijuana to school. Apparently the child stole it from Kelly Khumalo's current boyfriend,  Mthokozisi Yende.
Fans were not reacting to this and said that they are not surprised because Kelly Khumalo said in one of her episodes of her reality show that her son is always getting in trouble at school.
People were shocked that He is so young to even know about weed. Others said they were not surprised because he has a tattoo. People said that how you behave in front of your children is how they will follow.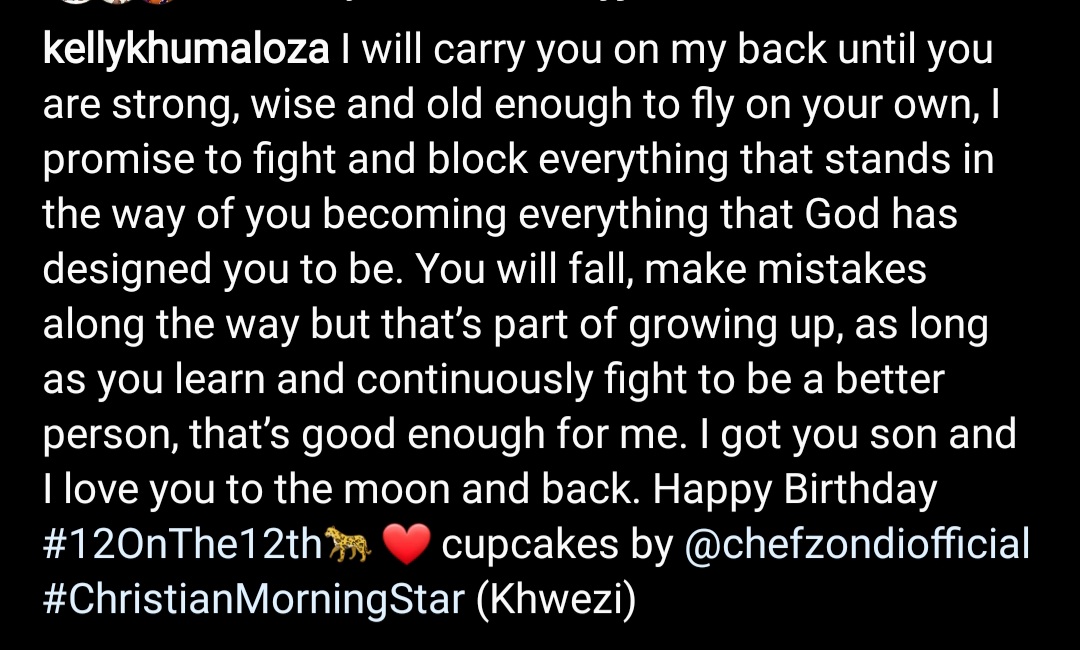 In early 2020, Christian, who was almost 10 years old, got suspended from school because he lies and he stole someone's hat.
Kelly admits that he's been lying more and more and her mother mentions that "a boy child needs his father".
More details on this story soon
Also See: