After numerous delays, the Department of Basic Education (DBE) is expected to finally reveal its plans for the 2020 school year which has been seriously disrupted by COVID-19 and the subsequent lockdown.
Minister Angie Motshekga will be joined by the Minister of Higher Education, Science and Innovation, Blade Nzimande at a press briefing on Thursday 30 April. This comes after an earlier conference, scheduled to take place on Monday, was cancelled at the last minute.
Both departments, under severe pressure to provide clarity regarding the disrupted curriculum and associated contingency plans, noted that further consultation with the National Command Council (NCC) was necessary.
Summary:
– No more than 40 students to be allowed on classes.
– Classes will be sanitized,teachers given masks as well as students.
– June Exams cancelled,will be combined w Oct/Nov exams.
-Grade 7 and 12 w reopen on the 6th of May if Covid19 board approves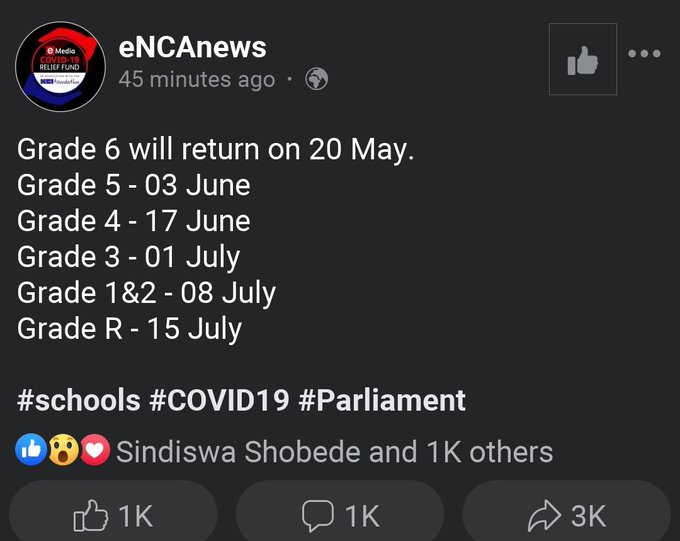 When will South African schools reopen?
On Wednesday, Mweli elaborated on protocols which were to be followed once schools reopened. The Director-General added that any proposed dates would be finalised by Motshekga during Thursday's briefing. The proposed guidelines on social distancing at schools included:
Physical distancing in classrooms; no more than two learners sharing desks
No hugging or hand shaking
Cloth face masks to be worn by all students and teachers at all times
No mass events; sports matches, choral practices and festivals permitted
During the Portfolio Committee on Basic Education briefing, Mweli noted the proposed amended school calendar for Grade 7 and 12 as follows:
Term 2:
Start for teachers: 4 May
Start for learners: 6 May
End of term: 26 July
Term 3:
Start: 3 August
End: 23 September
Term 4:
Start: 28 September
End for learners: 9 December
End for teachers: 11 December