South African reality television star and businesswoman Faith Nketsi introduces her husband and their baby to their followers. She says when they took those pictures she was 7 months old.
She wrote:
Mommy and Daddy love you so much I was 7 months pregnant in those pictures and I remember how happy I was because my baby bump was finally starting to show and take shape. agh fun times
Check the post:
View this post on Instagram
Faith Nketsi recently revealed that she was pregnant and already gave birth to her baby. Since Faith Nketsi kept her pregnancy a secret she is now answering her fans questions about her journey. Faith Nketsi answered questions from her fans.
Faith Nketsi shared that she was at her Andzelo's house with her husband Nzuzo Njilo when she felt dizzy after taking a nap. She said that she knew something wasn't right and her husband was on a call. She went to the store and bought pregnancy tests and they came out positive.
She said she showed it to her husband and he immediately dropped the call. Faith also said that she was on birth control and took them everyday but she took them at different times.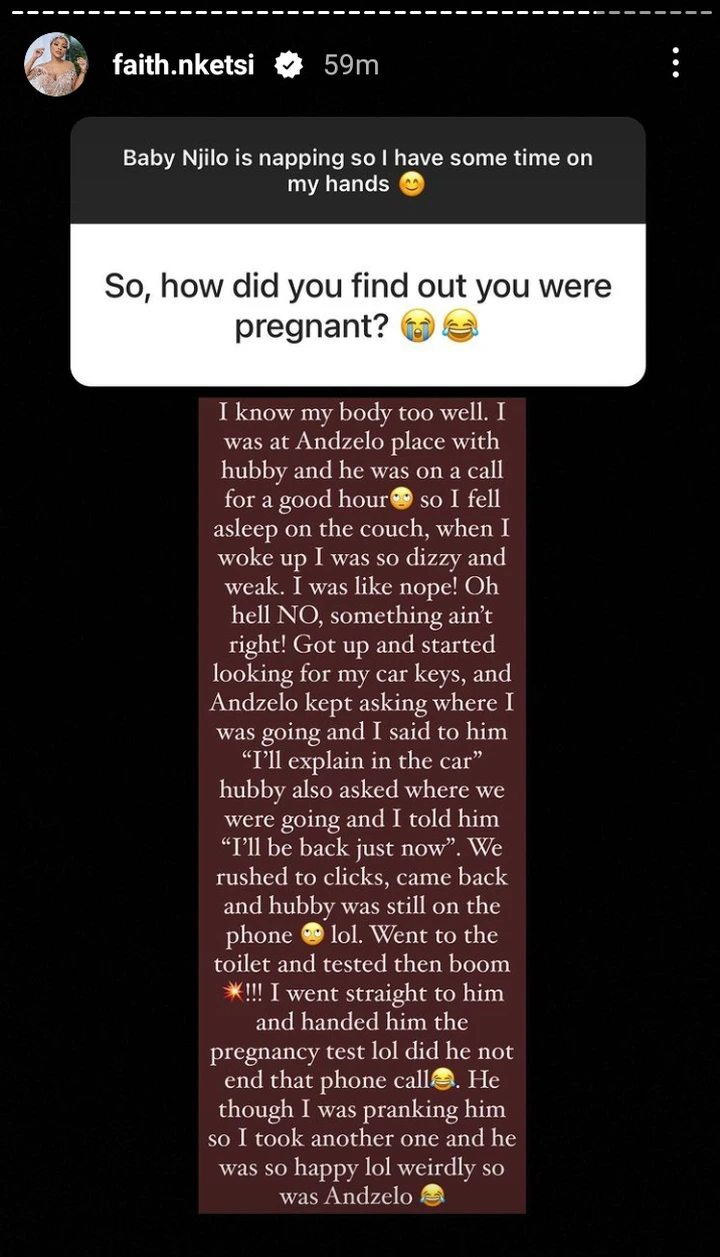 She continued;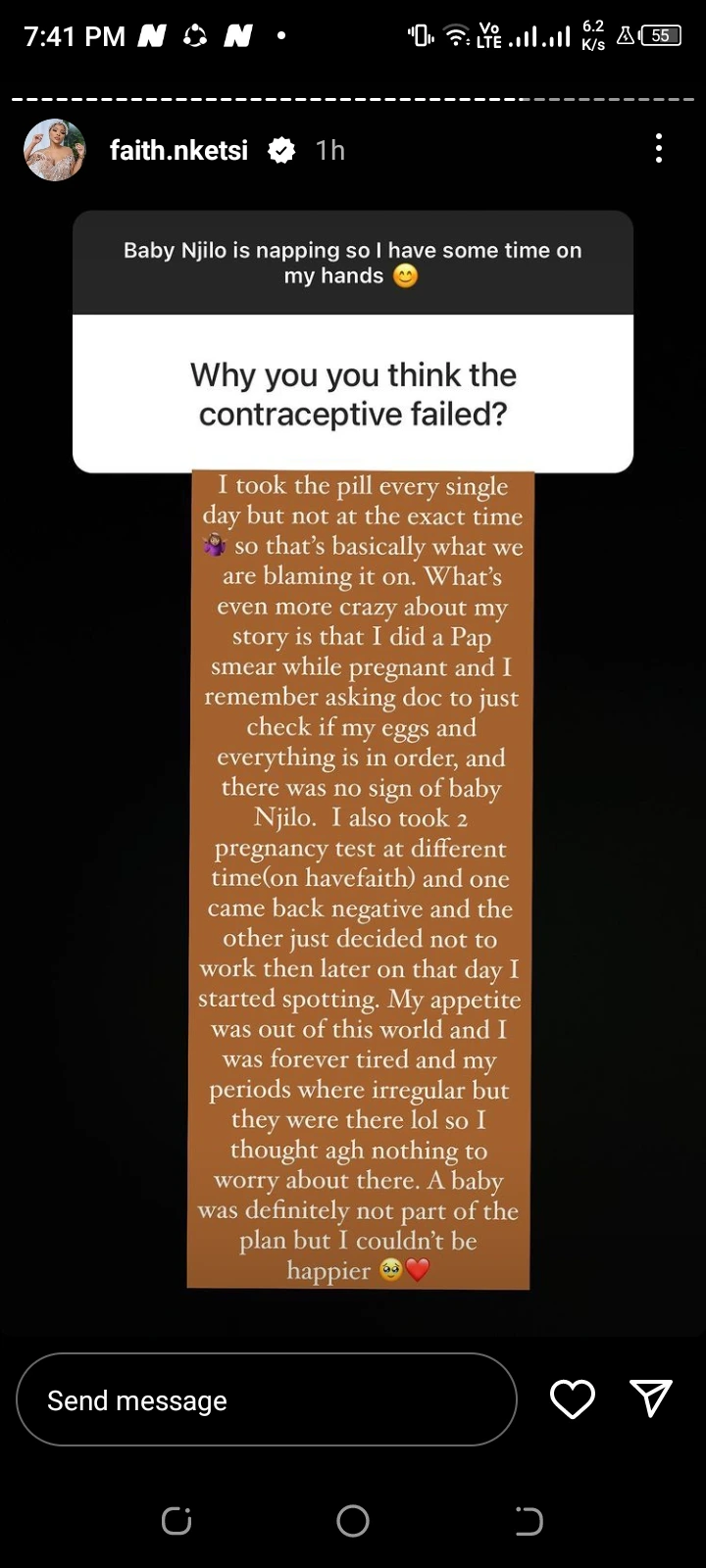 Reality TV star Faith Njilo (née Nkesti) says her hubby Nzuzo had her at hello.
The pair hit it off like a house on fire and they have been joined at the hip ever since they met.
In a question-and-answer session on her Instagram stories, the reality TV star shared details about her relationship.
One of her followers asked Faith how she met Nzuzo. Faith said she met him through her best friend, Kim Kholiwe. Kim and Nzuzo were acquaintances, and Faith said her friend mentioned Nzuzo liked her.
"It was definitely by default. He would tell her that he liked me. Kim told me once in passing and we moved on. When he finally got the chance to talk to me himself without really saying that much, I melted at the way he looked at me. Then all was history after that night," she wrote.
"I always say our love is not your typical love story, but I would never have it any other way. God created me for you.I'm content knowing that you love me and I am blessed to love you unconditionally.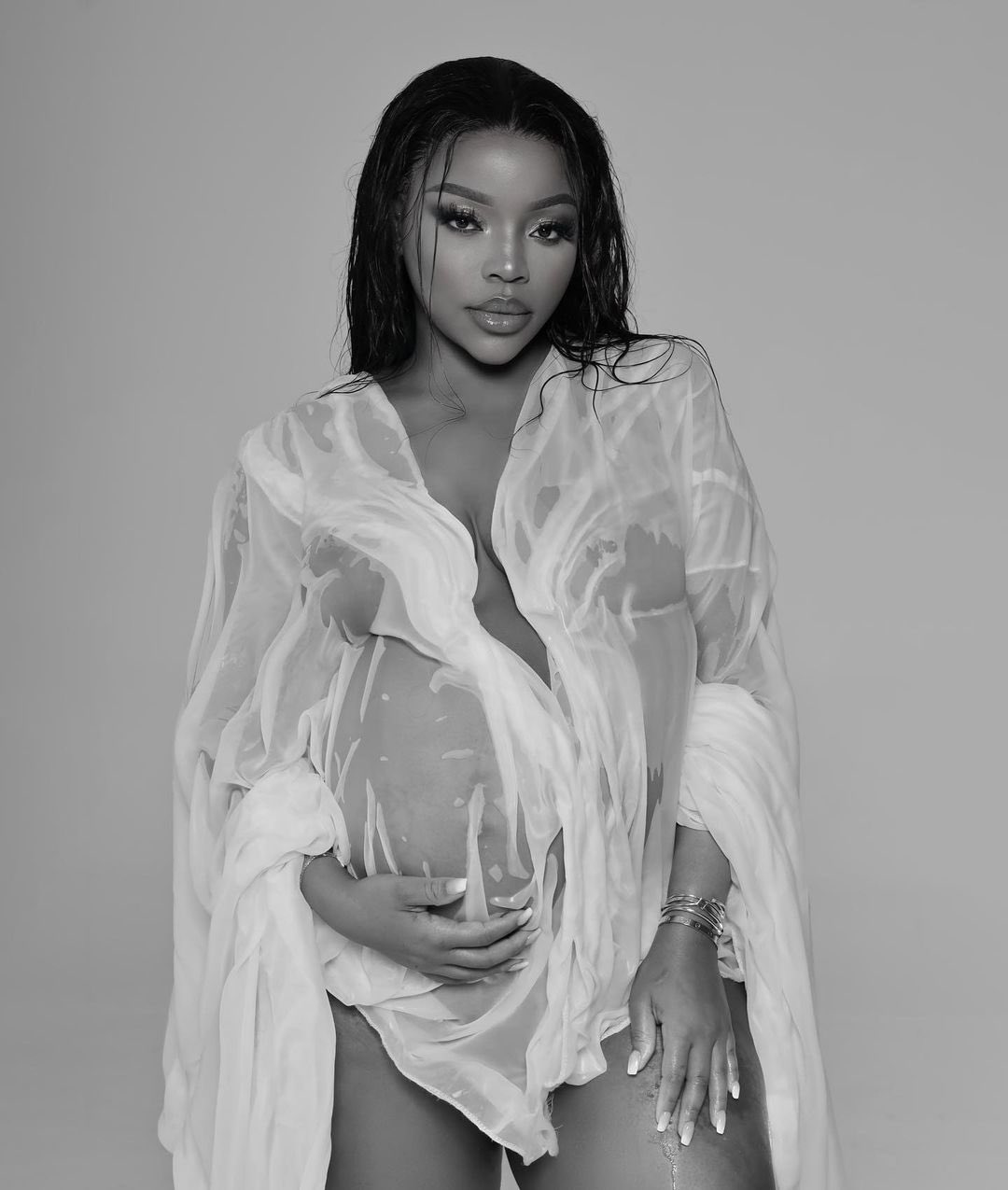 Congrats to them!