DJ Black Coffee found himself trending on Twitter after announcing that is ready to be a guest on the popular show, Podcast and Chill.
Black Coffee is not done with his ex Enhle. What we saw and heard about Enhe Mbali 's many affairs and polygamy was nothing. Grootman is asking Podcast and Chill to call him to the show to reveal more.
Fans said the internationally acclaimed South African producer has a lot to share especially after the recent Enhle Mbali drama .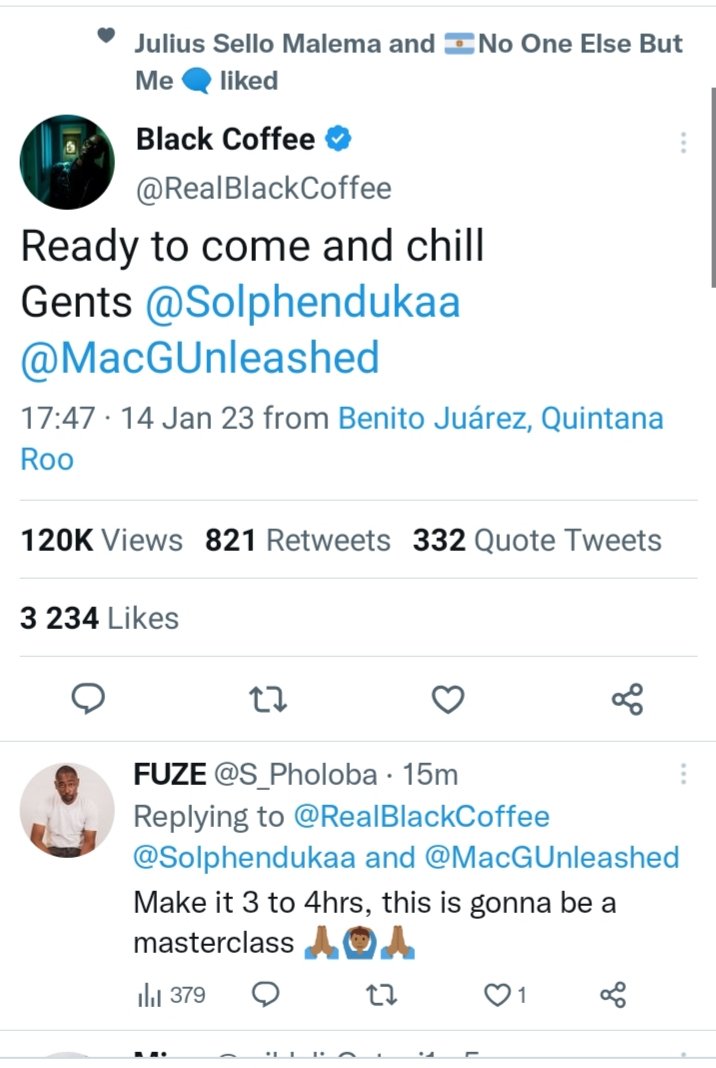 DJ Black Coffee's estranged wife Enhle Mbali Mlotshwa has admitted to being in a relationship with a married man, Justice Huni, and has expressed her willingness to be his second wife.
Enhle acknowledged having an affair with Justice and discussed their sexual intimacy in the audio that was leaked.
As Valentine inquires about whether Enhle and Justice engaged in sexual intimacy, the topic of intimacy also came up.
"I have condoms in every facet of my world. In my car right now there are condoms," she replied.
Enhle also responded when questioned about entering their marriage as a second wife by saying "I'm not even divorced yet, how will I ask for something like that?"
In the call, Enhle pours her heart out about her willingness to be in the polygamous marriage and how she understands that Valentino was not willing to have her as a sister wife. In the conversation with the former Isibaya actress and TV personality, Valentina mentions how displeased she is with the fact that Enhle and her husband were carrying on with their relationship even though she did not agree to isithembu
Isgaxa after sgaxa kulo 2023 Enhle Mbali X isthembu😳😳😳😳is not make sure ai 🤔🤔 pic.twitter.com/sl9ggKZoC2

— ZamaNtungwa (@zee_pat101) January 10, 2023
"You were hurt when you spoke to me. I know that feeling. It is not a feeling I want anyone to go through. Which is why I kept silent, and I took it in, and I took your pain," she says. "I completely understood where you were coming from. I've been thinking back, and I was like, you know what, ok let's try. From that trying, I was telling him that I was asking a lot of questions with regard to what it entails to be in Isithembu." Enhle goes on to tell Valentina that she had done some research about polygamy, and she knows what she is signing up for.