An email trail has proved how Somizi stole Dinner at Somizi concept. A vicious email leak has proved that Idols judge and Mzansi favorite Somizi Mhlongo stole the idea of his now hit show "Dinner at Somizi's".
The show, which has become a favorite in Mzansi, features Somizi having dinner with a celebrity at his house every week. Each week, a new celebrity emerges. Now, damning evidence has emerged to prove that the idea of Dinner With Somizi was stolen from one Hastings Moeng.
Allegations of intellectual property theft after a man, who claims the idea as his, was excluded. Hastings Moeng, 31, says he is the brains behind the popular DSTV's 1Magic TV show which centres around Mhlongo hosting celebrity guests for dinner at his home.
Moeng's lawyer Mabu Marweshe confirmed to Sowetan that his client is demanding an apology for his intellectual property being used without his consent. He also wants to know how much the show has made so that he can negotiate his share of royalties and to be acknowledged going forward.
"I can confirm that we act on behalf of Hastings Moeng and we gave issued a letter of demand to Multichoice. I cannot however divulge much … but my client is seeking recognition for his idea," Marweshe said.
Sowetan has learnt that Moeng, who is also in the entertainment industry, had sent an email to Mhlongo in July 2014 proposing a light-hearted TV show to be titled 'Dinner kwa Somizi', a Zulu equivalent of the current title.
In the email which Sowetan has seen, dated July 28, 2014, sent by Moeng to Mhlongo and his then close associate Themba Zuma, Moeng proposes the show and states that he has had this idea since 2010.
Here is the Email that was sent;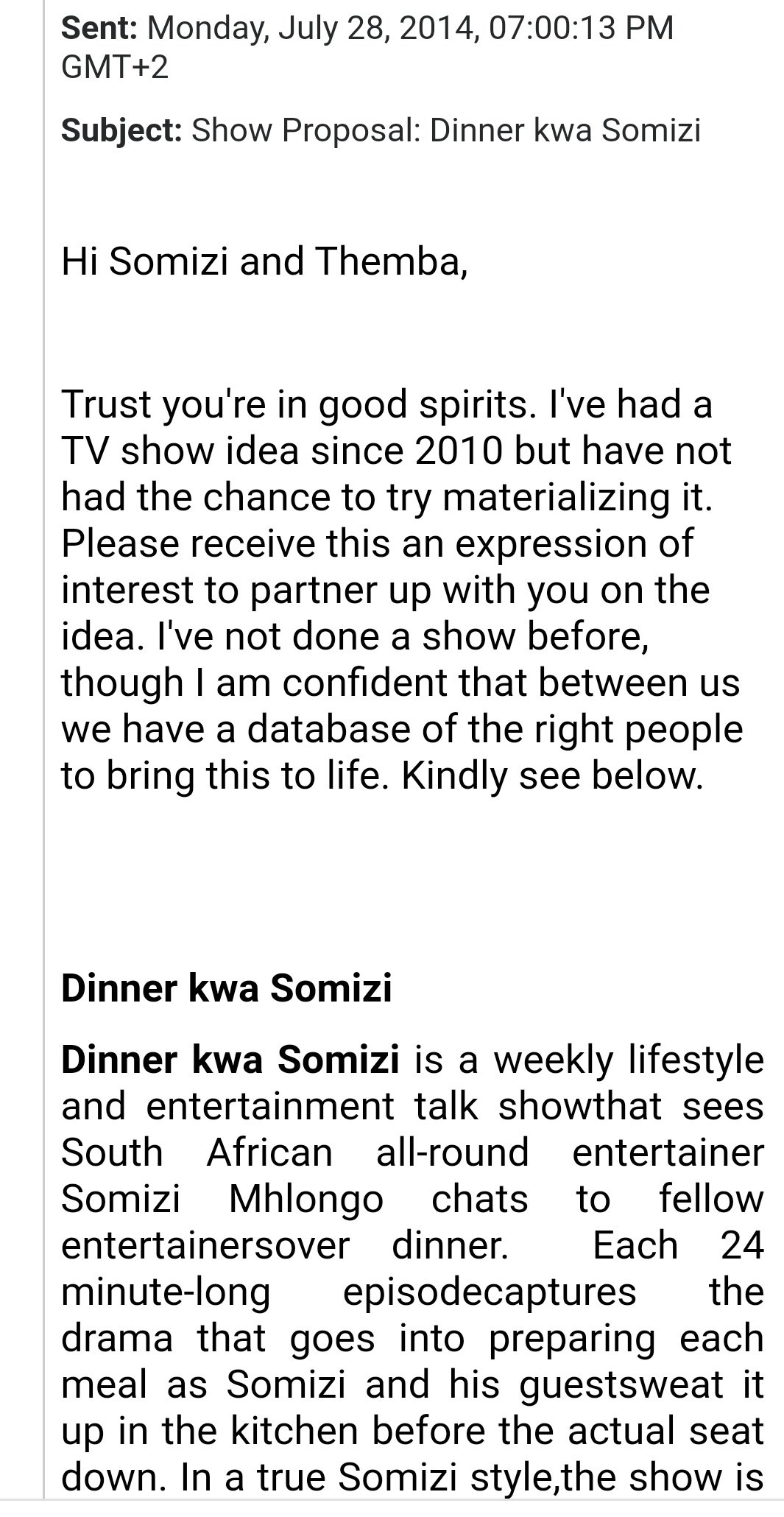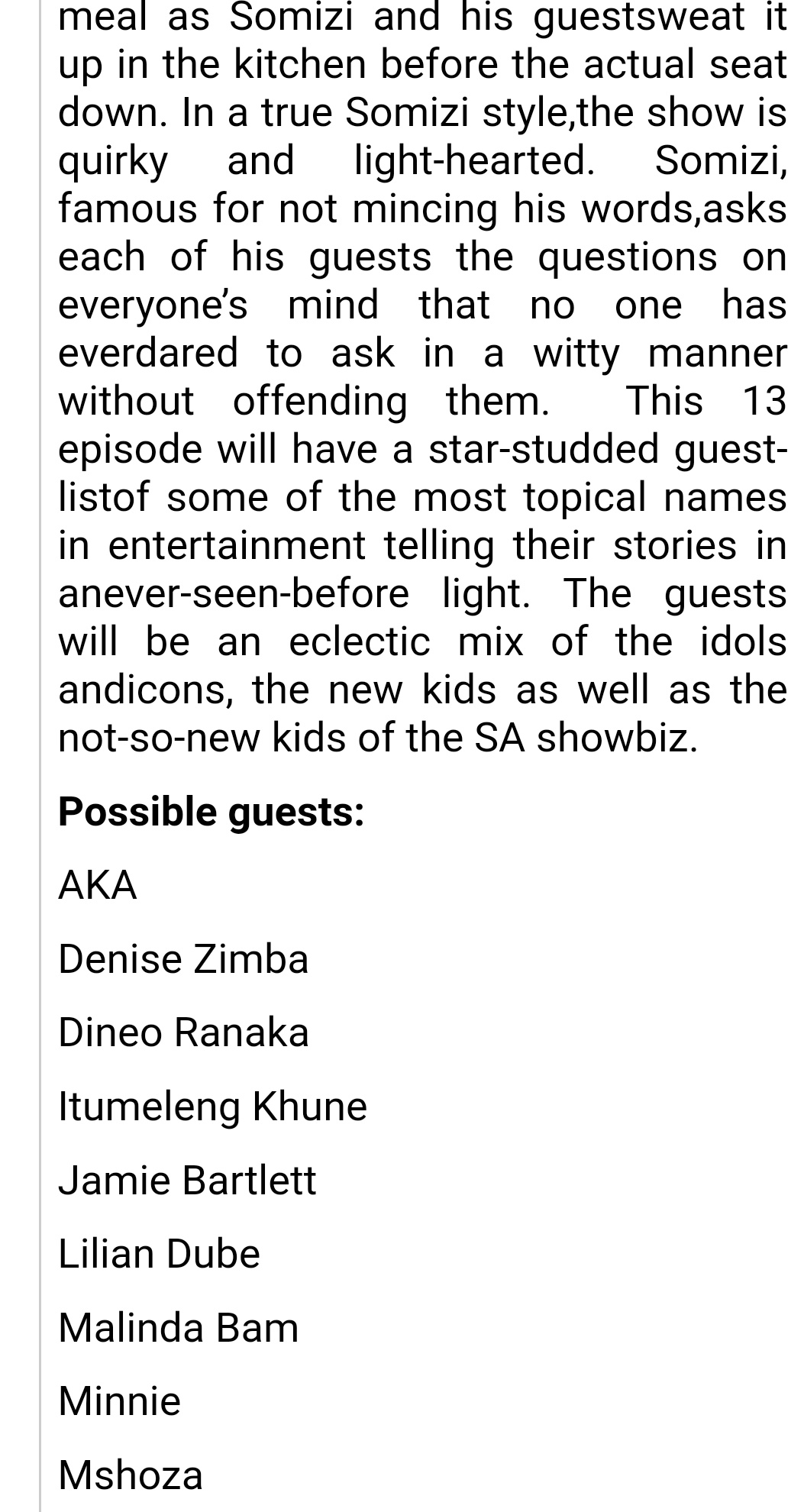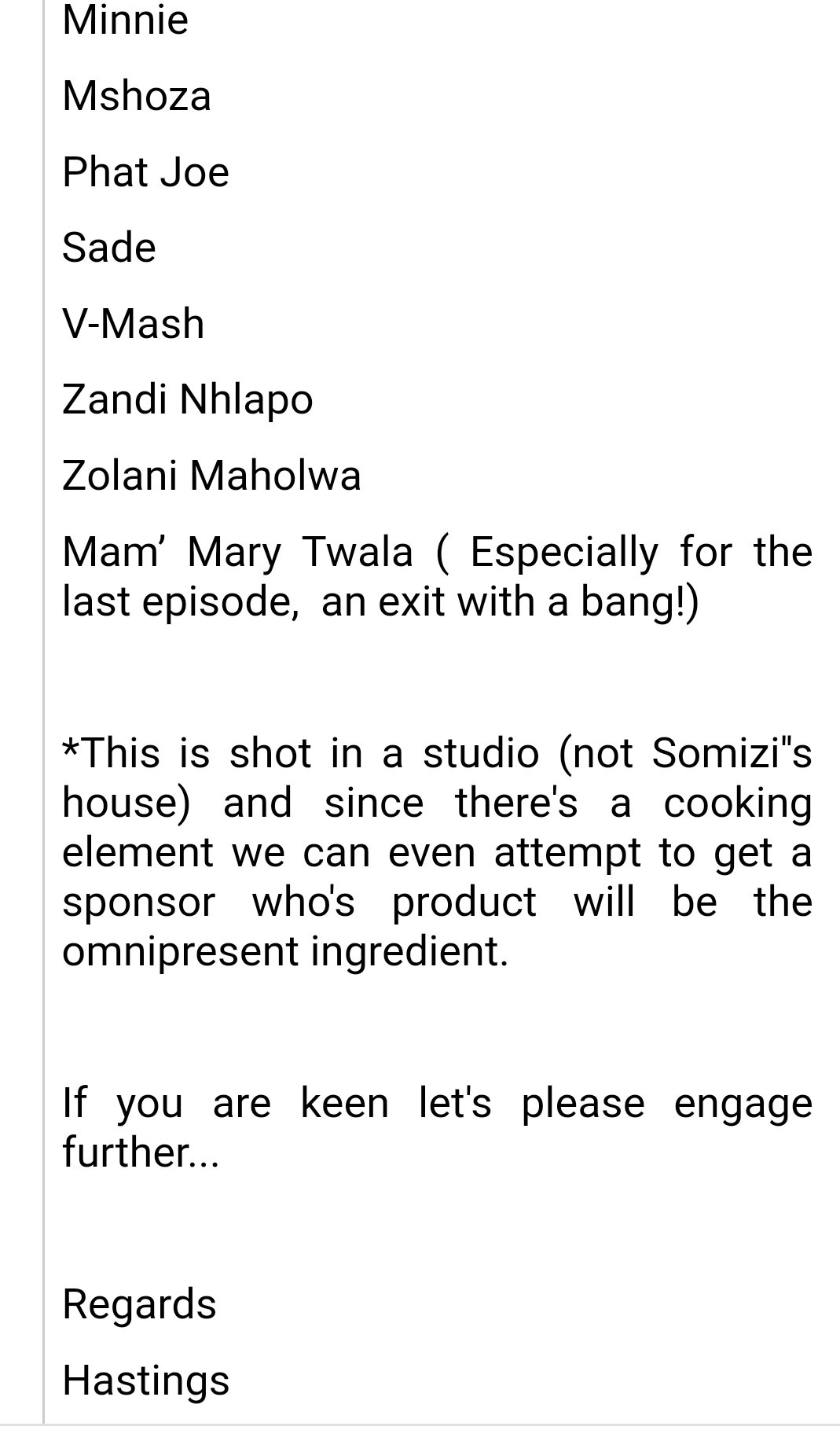 Somizi is yet to react to all these accusations of theft against him.
On 28 July 2014, Hastings Moeng proposed #DinnerAtSomizis to Somizi & Themba. The description of the show is materially similar to the one now flighted (to the shock of Mr Moeng). See the 2014 email below and decide for yourself. (1/2) pic.twitter.com/QVcpJIAY8o

— Eusebius McKaiser (@Eusebius) September 15, 2020
Must Read: