Euphonik trended on Saturday for sharing the screenshot showing the woman's number, while others questioned the authenticity of the message.
However, Twitter users claimed the screenshot chat was fake and forged by the DJ to prove his innocence.' Nampree also tweeted that it's a lie and she's not given up on winning against the DJs.
On Saturday morning, he shared a screen shot of a message purporting to be from his rape accuser. In the message, she apologises for the accusations and asks Euphonik for help.
Here is the Screenshot;
Euphonik thinks we're stupid. he faked an entire whatsapp conversation and he thought we wouldn't notice? pls, the signs are all there. pic.twitter.com/eEh1H7KOSi

— ᴍᴘᴜᴍᴢ (@_Mpumz) February 27, 2021
Euphonik replied to the message and said that he won't be helping his alleged rape victim as she's done too much damage and that she should seek help from her family:
Boitumelo Thulo has earned the respect of social media users after calling DJ Euphonik, real name Themba Nkosi, to order. While lots of persons cancelled the DJ, some dragged called out South African celebrities for being mute.
Boity chose to stand out as she directly dragged the DJ.
"You're being a vile asshole. This is not a joke!!! You're being accused of the most violent crime and you're turning it into a shits and giggles circus! Either confess or let your lawyers handle this. But what you're doing here on Twitter is disgusting!" she said.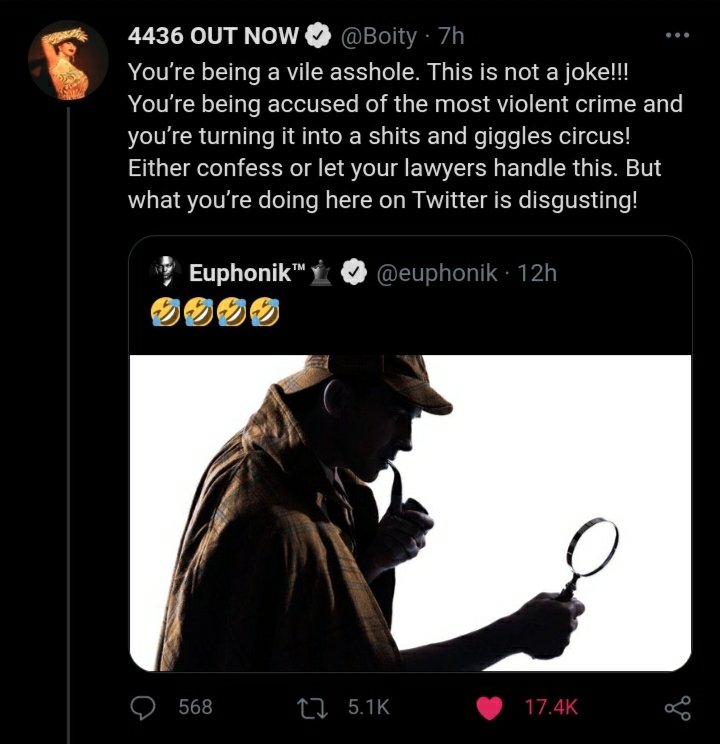 The rape allegation has been on for a while and gone legal. Both DJs claim to be innocent, but their lives and career has been going through the most due to the issue.